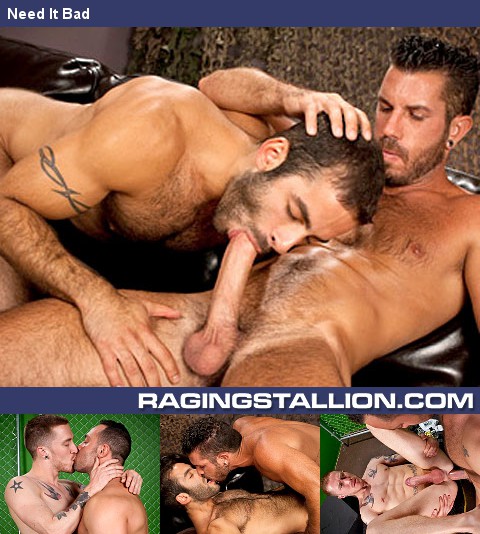 Hard bodied men so horny, they just can't wait to get their clothes off and their asses stuffed with more thick throbbing cock! A film for men who 'Need It Bad!' The latest four scene scorcher from Hard Friction brings you more of what you love! Big cocks, Hairy men, Tattooed rough-necks, Bubble butts, Swarthy brutes, Hard-bodied jocks, Muscle studs and the boy next door all get their fill, Live in the Hard Friction studio. Directors Steve Cruz and Bruno Bond bring you more no-nonsense fucking based on true chemistry and attraction the way men like it! Recommended for those who 'Need It Bad!"
Scene 1 – Shay Michaels & Adam Herst
There is an instant attraction between bearded muscle men Shay Michaels and Adam Herst. Shay's massive chest and torso is covered in light golden fur, Adam is also a golden boy, his washboard abs tighten and flex with the excitement of each penetrating kiss. Shay goes down on Adam sucking his fat cock deep and long. Adam contorts and pumps his hips as he gets his cock serviced. Soon, it's Shay's turn to take control and push Adam down on his knees. Shay is directive, verbally commanding… he knows what he likes and he's the man to tell you how it's going to be. Adam delivers an expert blow job, then Shay flips Adam onto his back to open up that perfect white mound of an ass. Adam's tight pink hole is splayed open and the feast begins. Adam is on his back and Shay climbs on top, pinning his ass down with his full weight as he drives his dick deep inside while Adam moans and squirms. Shay won't let him go far, he drives his thick meat in and out of that perfect pink hole. Then he flips Adam over again on his back so he can watch his reaction as he drives his fat point home. Shay is humping with full force, Adam is spreading his legs wider and wider over his own head. All this excitement works a warm white load out of Shay's dick and onto Adam's groin, he pulls out and helps Adam reach his explosive climax until the two collapse into a pool of jizz and sweat.
Scene 2 – Fabio Stallone & Kennedy Carter
Italian stud Fabio Stallone is passionately kissing Kennedy Carter as his big, uncut cock grows harder and harder. He kisses down the ripped body of this inked, ginger from the UK until he gets to his own massive, uncut meat already throbbing in anticipation of a hot mouth. He tongues Kennedy's foreskin and crams cock down his throat while stroking his meat, then stands up, kisses Kennedy and pushes him down on his knees. Kennedy does his best to get this thick, curved cock down his throat, staring up at this hairy, muscled hunk until tears are welling up in his eyes from the effort. He is rewarded by Fabio who turns Kennedy around, exposing his hot, pink hole and giving him a warm-up with his tongue. This ass needs to be nice and lubricated if it is going to fit his giant cock! When he sticks it in, Kennedy is ecstatic! Fabio pounds him from behind and again while he is on his back. The duel of the giant cocks climaxes with two creamy loads across Kennedy's inked chest and stomach. This scene will give fans of giant, uncut cocks exactly what they are looking for!
Scene 3 – Jason Michaels & Damien Stone
Two dark and hairy studs are lip-locked in the Hard Friction studio. Damien Stone is so into his hairy muscle boy Jason Michaels he can't take his eyes and his hands off him. Jason wastes no time working his lips down Damien's chiseled body to his long, rock-hard cock. Damien responds with enthusiasm, 'You're a damn good cocksucker boy! Ready to get throat-fucked?!' Jason is a good boy, he stays on his knees pleasing every throbbing delicious inch Damien Stone has to offer him. Going down on Jason's hole before fucking it, Damien spreads Jason's hairy young tight ass wide and plants deep wet licks there as lubricant. Jason's moans and smiles with delight as his abs and triceps flex. Once Jason is opened and ready Damien plants his long stiff rod deep into his hole. It slides right in! Damien takes command, grabs his bottom and gives it all he's got, rock hard and steady. The he flips Jason on his back so he can see him face to face, pulling his legs in the air and drilling for home. Jason's smile couldn't be wider, obviously Damien hits the spot. In a third position Jason gets on and rides! He grinds his wet hairy hole on Damien's pole until the friction drives him to blast his young cum all over the thick black hair that cover his muscled abs. Damien return the favor in a huge white blast that Jason laps up with no hesitation.
Scene 4 – Dylan Hyde & Jesse Santana
Tall, lean, newcomer Dylan Hyde worked hard for a year to get on the Hard Friction set. His persistence was rewarded with a hot hookup with Jesse Santana. These two men are obviously very into each other as they stand naked, kissing and stroking each other's thick, heavy cocks. Dylan shows off his eager newbie cock sucking skills on Jesse's big meat while stroking his own giant dick. Not wanting to be showed up by the new guy, Jesse shows him how to deep throat a massive cock and Dylan shows his gratitude by slapping him in the face with his giant tool! Jesse lays back and Dylan climb up on him to ride his throbbing cock in reverse cowboy. Dylan's stiff dick bounces up and down with each thrust of Jesse's muscled thighs. The intensity of a long, thick cock pounding his hole shows on Dylan's face as we see every inch pushing in and out. Moving Dylan onto his back, Jesse lays him on the table to he can really pound his ass. As Jesse rams away, Dylan strokes his cock to orgasm and blows his load. Jesse climbs up and pins Dylan down with his meaty legs and shoots a giant load over his head and all over his face. Dylan sucks every last drop out of his cock and then happily kisses Jesse, satisfied with his first scene.
Visit Raging Stallion